Featured
Brits are being told the most picturesque parks to visit for free during the Easter holidays with the weather brightening up this week.
Schools have already started breaking up for Easter, so photography experts at ParrotPrint.com have handpicked the best parks to explore the outdoors and enjoy the lighter, longer days as a family.
Amid the cost-of-living crisis, parents are looking for cheap days out to keep their kids entertained as the school holidays approach. And there are plenty of amazing spots up and down the country that will not cost a penny to visit. With more than 27,000 public parks and green spaces across the UK, parents are spoilt for choice when it comes to taking their kids on a fun and easy day out.
From Heaton Park in Manchester to Figgate Park in Edinburgh, there isn't a shortage of options and no better time to take advantage of the beautiful scenery and blue skies.
Why a Park Visit is A Great Family Day Out
Matt Dahan from ParrotPrint.com said:
"A trip to the park is a tried and tested way to enjoy a great day out as a family, especially as the weather is getting warmer. As the Easter holidays approach, parents will be wanting to keep their kids entertained on a budget.
"Taking a day trip to some of these beautiful parks is a great way for children to let off steam. Adults can enjoy the scenic views with attractive walks and wildlife too.
"There is no shortage of beautiful green spaces in the UK, which all have unique attractions and boast gorgeous scenery and a host of local wildlife. We've handpicked the top 10 best parks to visit for free this Easter."
Top 10 parks to visit this Easter, all with free admission
Sheffield: Endcliffe Park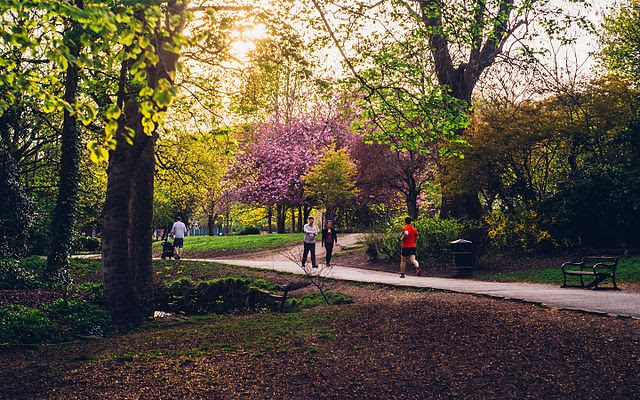 This public park in Sheffield is known for its enchanting spectacles, including a waterfall and the Porter Brook River. It has lush vast green spaces, blossoming trees, and water ponds, making it a charming spot for walks and picnics. Sheffield is known for its unique nature, and Endcliffe Park, with its playground, space for ball games and even a parkour facility, makes the perfect park for all the family.
London: St James Park
Making for a break from the grey of the city, this picturesque park is just a stone's throw from Trafalgar Square and is dubbed the prettiest park in London. It has a huge lake full of swans, geese and pelicans and is full of charming flower beds. As the weather gets warmer, the lawns of the park are full of deck chairs, making for the perfect spot to relax or have a picnic while the kids explore.
Manchester: Heaton Park
This park is a historic area on the edge of Manchester and offers more than just a walk in the park with plenty of attractions like an animal centre, playgrounds, a boating lake and football pitches. The beautiful park also includes the grounds of a stunning 18th-century country house and is the perfect place to spend a sunny afternoon.
Bristol: Brandon Hill Park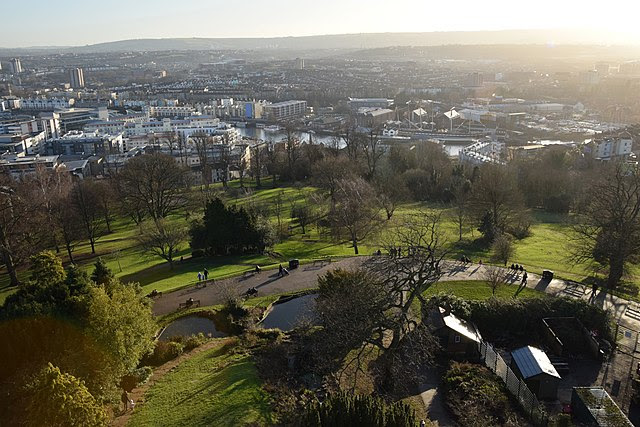 Brandon Hill Park is a famous picnic spot because its hilly location offers stunning panoramic views of the city and spectacular sunsets. It is a haven for people who love wildlife, as it is a nature reserve and a station for migrating birds. The green oasis is full of cowslips, daisies, butterflies, and bees, and come Spring the wildlife pond is full of frogspawn and toads. Foxes and bats can also be spotted in the early evening time.
Birmingham: Cannon Hill Park
Made up of 80 acres of parkland, Cannon Hill Park is a premier location in Birmingham which has beautiful flowerbeds, pools, and a stunning collection of trees. This park is a must for wildlife enthusiasts with walkways and cycle routes alongside the River Rea, historic gardens, wildflower meadows, and a 5-acre woodland. This is a great place for families, with children's play areas and boats to hire.
Suffolk: Christchurch Park
This historical area hosts various facilities great for kids, including a play area, tennis courts and bowling greens. The horticultural gem is known for its tranquil setting, with formal gardens and bedding displays blossoming with the likes of roses and shrubs. Christchurch Park is also a wildlife hotspot, home to over 100 bird varieties and a large selection of ducks, geese and swans which inhabit the ponds in the park.
Edinburgh: Figgate Park
Edinburgh has a reputation as one of the most beautiful cities in Europe, and Figgate Park is integral to this. The peaceful oasis is a perfect escape from city life, full of wildlife and beauty. It has a pond with otters and swans, and it also has lots of accessible wooden walkways. The play area at the park was transformed last year, bringing an array of new features for kids to enjoy.
Cardiff: Bute Park
Located just a short walk from Cardiff Castle, Bute Park is nicknamed the city's green heart. The park is a popular spot with a superb tree collection, natural play features, and a variety of horticulture and wildlife. It has acres of green space and multiple events throughout the year, and it offers a range of attractions and trails for families to explore and enjoy.
Liverpool: Calderstones park
This stunning 94-acre family park boasts an array of woodland, fields and beautiful Japanese, botanical and old English gardens. For history lovers, it is also home to ancient megaliths that are rumoured to be older than Stonehenge. The park has many facilities to keep the kids entertained, including a lake where kids can feed the ducks and play areas.
Nottingham: Rushcliffe Country Park
Known for its wildflower meadows and grasslands, this park is ideal for kids because of its many attractions, including a maze, skate park, mini outdoor gym and huge play park. The site also contains a lake, ponds and 8km of managed footpaths and is known for providing a rich habitat for a huge range of wildlife. Parents can go here to relax in the peaceful surroundings while the kids burn some energy.
For more tips on free activities with kids this Easter, head over to parrotprint.com